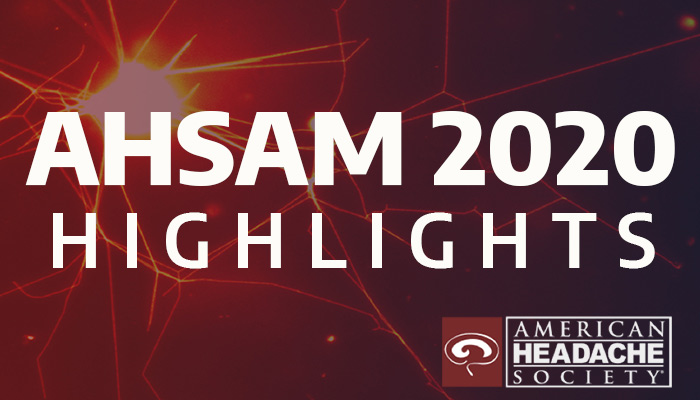 Migraine Care in the Era of COVID‐19: Clinical Pearls and Plea to Insurers
AHSAM 2020 - Oral session
Published on July 17, 2020
---
This Medfyle was published more than two years ago. More recent Medfyle on this topic may now be available.
Acknowledgements
Read more
arrow_downward
Hide
arrow_upward
This is a highlights summary of an oral session given at the AHSAM 2020 Virtual Annual Scientific Meeting and presented by:
Christina Szperka, MD, MSCE, FAHS
Director, Pediatric Headache Program & Assistant Prof of Neurology & Pediatrics
Children's Hospital of Philadelphia/University of Pennsylvania
Philadelphia, Pennsylvania
The content is produced by Infomedica, the official reporting partner of ASHAM 2020 Virtual Annual Scientific Meeting. The summary text was drafted by Goldcrest Medical Writing, reviewed by Marco Vercellino, MD, an independent external expert, and approved by Jessica Ailani, MD, FAHS and Mark J. Burish, MD, PhD, the scientific editors of the program.
The presenting authors of the original session had no part in the creation of this conference highlights summary.
References
Read more
arrow_downward
Hide
arrow_upward
1. Johns Hopkins Coronavirus Resource Center. COVID-19 Dashboard. Available at: https://coronavirus.jhu.edu/map.html. Accessed June 2020.
2. Qubty W, Patniyot I, Gelfand A. Telemedicine in a pediatric headache clinic: A prospective survey. Neurology 2018;90:e1702‐e1705. https://n.neurology.org/content/90/19/e1702.long
3. Muller KI, Alstadhaug KB, Bekkelund SI. Telemedicine in the management of non‐acute headaches: A prospective, open‐labelled non‐inferiority, randomised clinical trial. Cephalalgia 2017;37:855‐863.
4. Muller KI, Alstadhaug KB, Bekkelund SI. A randomised trial of telemedicine efficacy and safety for nonacute headaches. Neurology 2017;89:153‐162.
5. Rametta SC, Fridinger SE, Gonzalez AK, et al. Analysing 2,589 child neurology telehealth encounters necessitated by the COVID-19 pandemic. Neurology Publish 2020; Ahead of Print DOI: 10.1212/WNL.0000000000010010.
6. Marmura MJ, Silberstein SD, Schwedt TJ. The acute treatment of migraine in adults: the American Headache Society evidence assessment of migraine pharmacotherapies. Headache 2015;55:3-20.
7. Silberstein SD, Holland S, Freitag F, et al. Evidence-based guideline update: pharmacologic treatment for episodic migraine prevention in adults: report of the Quality Standards Subcommittee of the American Academy of Neurology and the American Headache Society Neurology 2012;78:1337-1345.
---